As a medical billing instructor, I am frequently asked how to study for the new billing credential offered by AAPC (American Academy of Professional Coders). This is actually a very good question because the credential is a newer one.  I suggest reading and working through the textbook Understanding Health Insurance, which is the gold standard for teaching medical billing.  I suggest highlighting key points as you read and not moving forward in the text until you are able to pass the chapter reviews with at least an 80%.  I also feel it is a wise idea to know your CPT modifiers. I suggest making flash cards on each modifier and knowing how each one affects reimbursement.
Billing Courses Online – Studying for the AAPC Billing Exam
Additionally, knowing your CMS-1500 form will be key in your success on the billing exam. Know what information is contained in each block of the form.  I suggest printing a CMS-1500 form and making notes right on the form itself.  I am a strong advocate of practice tests. The AAPC does offer a mock exam for the billing credential, and I highly recommend buying that exam. Codingcertification.org will have some mock exams for purchase as well for the medical billing credential.  If you are doing well on the practice tests, it is a good indication that you will do well on the exam. AAPC gives 2 attempts for the initial price of the exam. I tell my students to think of the first exam as a "practice" attempts. If they pass it, great. If not, they now have excellent information about what they need to study to pass on the next attempt.
Key to doing well on any exam is having excellent training to prepare you for the test. If you have not had professional medical billing training, it would be a good idea to first take a good medical billing course which contains medical terminology and comprehensive medical billing training using excellent texts, online material, and instructor-led support.
Medical billing is a great career and certification is a step in securing a great job.
By: Dawn Moreno, PhD, CBCS, CMAA, MTC. Dawn lives in the beautiful Southwest and has been a medical coding and billing instructor for over 7 years. Her joy is teaching adults new career skills. .  Interested in quality medical billing training?   
Learn More about Billing Courses Online – Studying for the AAPC Billing Exam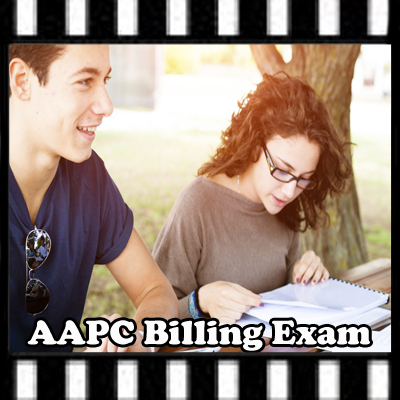 Medical Billing Posting Claim Payments and Problem Resolution AAPC – Medical Billing