The Mystery Behind Medications for Coders
Lets face it. Medication can seem like a foreign language at times. On top of that most have two names each, a brand name and generic. You may know the name brand because you hear it in the media especially if it is a new drug on the market. Then it seems all of sudden they are calling it something else because the generic version has hit the market.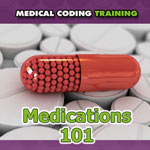 Medications will come out in name brand and then when the patent runs out it is available in the generic form. At first there is only a slight reduction in the price of the generic compared to the name brand. If the first generic does well in the market other drug manufactures join in and you can see up to a 50% reduction in the cost for the public. The active ingredients in generic drugs are the same as in brand-name drugs. However, they may look different or have different inactive ingredients, such as fillers or coloring agents. Generic drugs approved by the Food and Drug Administration (FDA) must meet the same rigid standards of strength, quality and purity that are applied to brand-name drugs. (1)
Some medications are such great sellers they are considered "Blockbuster" drugs. That means they sell billions of dollars in a year. Below is a table with the leading blockbuster drugs for 2011. (2) It is important for all medical professionals to be aware of the medications used in market place both name brand and generic. Not only to assist with proper documentation but to follow the statistics. Lipitor for example by Pfizer sold 12.5 billion in 2011. It is used for high cholesterol. This tells us that high cholesterol is a definitely a problem in our society.
Anyone in the medical profession needs to be aware of pharmaceuticals and their uses. Staying on top of the terminology and indications will make us more aware of the needs of our patients.
Medications 101
More Medications for Coders Content
[1] http://www.mayoclinic.org/medical-edge-newspaper-2012/feb-03b.html reviewed 2/2013
[2] Before the Storm, Chemical & Engineering News 89 (49): 12-18 reviewed 2/2011