Use CCO to Get to the Top of Your Game…And Stay There
Our Approach To Learning Will Help You Get Certified, And Stay Certified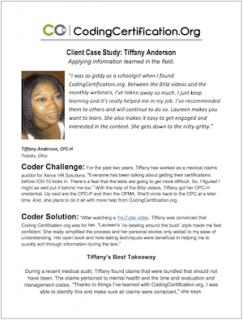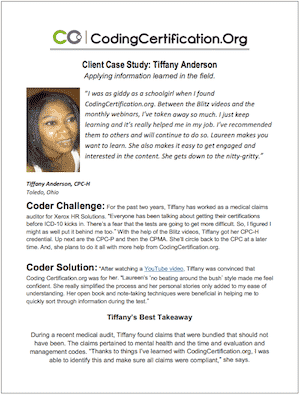 Whether you want to achieve your next level of certification or improve your knowledge for your current position, our educational material can give you the tools you need to succeed.
Tiffany Anderson connected with our method and used it to help her perform her job duties. She now plans to use the material to get her next levels of certification, and the job title and pay raise that go with them.
Read Tiffany's story and see how you can take the same path to a better career.
This client case study covers:
How CCO blitz videos and monthly webinars can directly help job performance
How CCO methods improve how people process and retain critical information
First-hand testimonial of how enjoyable it is to work with CCO
If you want to advance your career with certification or simply improve your job performance, CCO can help you achieve your professional goals.
Download our free case study and see where CCO can take your career!
Sincerely,