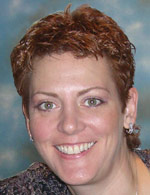 Welcome Message from Medical Coding Certification Instructor, Laureen Jandroep, CPC, CPC-I
Well you've come to the right place! My name is Laureen Jandroep and I've been teaching and coaching coders to prepare to be certified coders for the AAPC (American Academy of Professional Coders) or American Health Information Management Association (AHIMA) physician based board exams since 1999. I have a unique way of teaching myself new concepts and I share that with my students. There will be lots of free tips and advice on this blog and guest writers.
Medical coding certification help for CPC exam and CCS-P exam takers
I teach two-day and three-day review classes that I call a "Blitz" because it is a very intense jam-packed review for those preparing for one of the medical coding certification (physician-based) board exams. Many students have expressed that it was this Blitz that helped them pass the exam. Contact me if you'd like me to come teach your group over a weekend. I have also recorded my latest Blitz and it is available as Online Videos and a DVD set called the Coding Certification Review Blitz Videos.
Medical Coding Certification Community
We also have a medical coding community where we discuss everyday medical coding issues, medical billing issues and medical reimbursement issues.  There are specific boards discussing medical coding as a career, medical coding jobs, and how to obtain your medical coding certification.  Why don't you come join us on the CCO Medical Coding Discussion Forum.
Please send us your questions and we will be sure to post a reply that will benefit all and help you be the best medical coder you can be. Take a look of some of the questions I've received over the years and you'll surely take away a helpful cpc exam tips and ccs-p exam tips as you prepare for your board exam experience.  Be sure to also check out
I look forward to your comments and questions.
–Laureen Jandroep, OTR, CPC, CPC-H, CPC-EMS