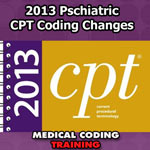 Major changes in psychiatric procedure coding will take effect in 2013. As you peruse the AMA CPT manual between page's 483 through 487, you will see columns of green print with symbols ►◄ indicating new or revised text. You will also see a red circle • indicating new codes.
2013 Psychiatric CPT Coding Changes
The first new code listed under Psychiatry is an add-on code + 90785 which is Interactive Complexity. It is reported in conjunction with diagnostic evaluation codes as well as psychotherapy codes and psychotherapy when performed with an E/M service codes. This code refers to specific communication factors that complicate psychiatric services due to situations involving an emotional family, language barriers, court officers, etc. When billed with a psychotherapy or psychotherapy code with an E/M, time should be reflected in the psychotherapy code specifically- not the 90785 – Interactive Complexity.
Diagnostic evaluation codes 90801 and 90802 have been deleted and replaced with 90791 and 90792. These new evaluations may include communication with family or other sources as well as review and ordering of diagnostic studies. 90791 and 90792 may be reported more than once for the patient when separate evaluations are conducted but be sure to double check with payers before you attempt to follow these guidelines.
Individual psychotherapy codes have changed from 90804/30 minutes psychotherapy, 90806/45-50 minutes psychotherapy, and 90808/75 to 80 minutes psychotherapy to 90832/30 minutes, 90834/45 minutes, and 90837/60 minutes. The new add-on codes +90833/30 minutes psychotherapy, +90836/45 minutes psychotherapy, and +90838/60 minutes psychotherapy indicate an additional evaluation and management service was provided with the psychotherapy service. Bill the E/M first and follow the guidelines of an E/M medical service based upon key components of history, exam, and medical decision making. The time of the visit is in the psychotherapy code.
New codes 90839 and add-on code 90840 are used to report the total duration of time face-to-face with the patient or family member spent by the physician or other qualified healthcare provider providing crisis psychotherapy, even if the time is not continuous. The patient must be present for some or all of the service.
Family psychotherapy without the patient- 90846 and family therapy with the patient-90847 have not changed as well as other procedures such as group therapy in the Psychiatry Section.
The last new change +90863 replaces 90862. This is an add-on code for Pharmacological Management when performed with the new psychotherapy services 90834, 90837, and 90838.
For coders who work with Mental Health, crosswalk your CPT® codes and understand the new guidelines for 2013. It is important to review this segment in the coding manual and bubble and highlight the important information indicated in green print and in the parenthesis as taught in the coding program:
CPT® Coding Related Content: