Healthcare providers render care to patients in a number of clinical settings and document their services within a patient's medical record.
Beginning with the patient's chief complaint, a doctor will assess the patient's condition, review the patient's past, family or social history; review the body's organ systems with a series of questions, examine the patient, and determine the complexity of the medical decision making based on the presenting problems, diagnostic procedures ordered, and management options which can be as simple as ordering bed rest or as complex as dictating emergency major surgery.
How Are Medical Coding and Billing Related?
The medical billing process contains several steps that must be followed before submission of a claim – all of which encompass front desk procedures to the actual information within a medical record.
Each step is important in the process, beginning with the initial phone call where a patient makes an appointment for an office visit:
• What is the reason for the visit?
• Does the patient have current insurance information on file?
• Is the patient's address current?
Up-to-date patient information is mandatory or provided services will be unprocessable by an insurance carrier.
Many providers choose to code their own services without fully understanding the complexities of coding. Coding problems exist without the basic knowledge of something as simple as recognizing the differences between CPT codes 90471 (Administration of a vaccine/toxoid) and 96372 (IM injection).
Besides documenting the patient's history, exam, and medical decision making, important coding questions must be addressed:
• Did the physician document total time or suggest counseling or coordination of care as more than 50% of the visit?
• Was face to face time in outpatient or inpatient setting indicated?
• If smoking cessation counseling was provided, was time indicated?
• Did the provider treat a problem unrelated to the patient's annual exam?
• Did the physician record how many times a nebulizer treatment was provided or if a
vaccine that was given was actually paid for by the physician?
• Was there a decision for surgery or was a visit billed for a different reason within a post-op global period?
• Are late effects or manifestation diagnosis codes being indicated?
Even if a provider codes his own work, medical billers and coders must often access records to ensure all services are captured.
Medical coding is an exciting profession where medical records are analyzed and information is converted into numeric and alpha-numeric codes to be submitted to insurance companies for physician reimbursement. Understanding medical terminology and anatomy is important while studying for your CPC (Certified Professional Coder) credential as well.
Because medical billers often appeal denied claims, it is becoming more of a trend for billers to learn coding to enhance their own profession. Both are challenging career choices that compliment one another.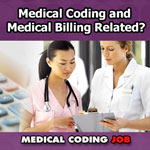 How Are Medical Coding and Billing Related Content: