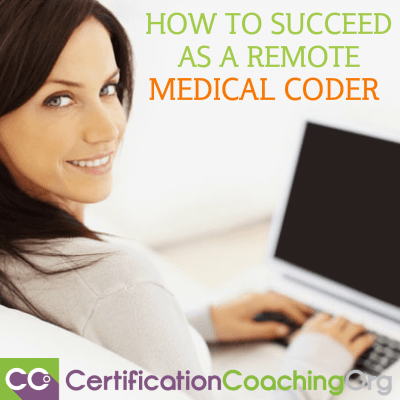 Who wouldn't want to work from home? Do the benefits outweigh the perceived downsides? I believe so. We all know that medical coding by the very nature of the work lends itself well to working remotely. It can be performed without frequent face-to-face interaction with others and requires little or no supervision for the experienced coder. The opportunities for professional growth are limited only by your ambition. As outlined below, indeed working at home or remotely does offer a great value to a medical coder. Check out the 7 steps on how to succeed as a remote medical coder:
Benefits
No drive to work
Improved productivity and morale for employees as it allows autonomy
Availability to work from home or other remote site. You can be on vacation and still work remotely if necessary.
Flexible schedules
Savings on gas, car maintenance, time, and clothes
No professional work wardrobe required, which can save you money
Can work at most productive times for employee
Balance personal time and work
Less stressful, as there is no micromanaging
Disadvantages
Less interaction with others
Can interfere with family life
Must be careful with patient info (HIPAA Compliant)
Source: Remote Medical Coding Jobs
However, we also have to take into account the cons such as lack of security, lack of camaraderie, less visibility to name a few! But whatever the circumstance is, if you're really into remote medical coding and looking for some tips on how to succeed as a remote medical coder, follow these 5 simple steps and you're on your way to become a successful remote medical coder:
How to Succeed as a Remote Medical Coder
Step 1: Craft a Flawless Resume
When you're looking for your first remote coding job, it's important to make sure your resume is top notch.
Include a professional-sounding email address consisting of your full name, not something like "cutiepatootie1@coders.com." And whatever you do, don't use the email address attached to your full-time employer!
Include a phone number, too, and don't forget to check your outgoing message. You could have forgotten that you and your friend recorded a comical message about Joe's Bar that greets callers to your voicemail, and you don't want prospective employers hearing that.
Have someone proofread your resume before you send it out or upload it, because it's easy to miss mistakes.
Keep the resume brief and to the point, customize it to the specific job for which you're applying, and include bullet points of experience that are important to that employer.
Source: Succeed as a Remote Coder with these top tips
Step 2: Interview Your Prospective Employer While She Interviews You
Be sure you have questions for the interviewer, too. You'll want to know what sort of work schedule is required, whether training would be on site, and whether the work would be on a long-term or short-term contract. What productivity standards are required—will it be based on number of claims entered, or will your workload be measured by encounters, or by entire charts?
According to Maggie M. Mac, CPC, CEMC, CHC, ICCE, CMM, in her presentation on remote coding at the 2015 CodingCon in Orlando, Florida, "As a hiring manager, I would love to hear an interviewer ask me something like, 'you've hired for this position before; what problems have you encountered, because I want to make sure I am not a problem for you."
Source: Succeed as a Remote Coder with these top tips
Step 3: Determine Whether Job Is Employee or Independent Contractor Status
Check whether the position is an employment opportunity with paid benefits and withheld taxes reported on a W2, or whether it's an independent contractor spot where you pay your own taxes based on a 1099 schedule C.
If you impress your hiring manager enough to get to the next step, you'll be asked to take a coding test, which will often include evaluation and management (E/M) coding. "I cannot emphasize enough," said Mac, "that E/M is the big banana." Everyone needs E/M background and experience, even if that is not the most important aspect of that particular job, she said.
Source: Succeed as a Remote Coder with these top tips
Step 4: Communicate Your Way to Success!
Once you're hired, Mac said, "Your number one job as a remote coder is communication." She said that if she sends an email to one of her home-based employees, she expects an answer within 4 to 5 hours, if not sooner. "You have to be immediately available, like the physician in the office suite in cases of incident-to billing," she laughed, pointing out that for remote-based workers, staying connected with the office is as crucial as it is for a provider to be present in the office when incident-to billing occurs. Remote workers must be available to respond to any question the supervisor or client might have, and failure to respond rapidly is a sign that the employee can't be trusted.
Source: Succeed as a Remote Coder with these top tips
Step 5: Are You Adhering to the Golden Rules of Remote Work?
In order to be truly successful at any remote billing and/or coding position, one must always ensure that they adhere to the "Golden Rules of Remote Work:"
Be results oriented
Maintain self-discipline
Get up the same time daily and get dressed as if you had to leave the house (unless you're sick)
Must be an independent worker and able to time manage accordingly
Stay organized!
Have a separate home office from the rest of your home
Source: Is Medical Billing and Coding A Career Where I Can Work from Home?
Step 6: Create a Zen-Like Work Setting
When considering working at home you must decide where you will spend your time working. So, we asked these professionals to describe what their home office entails. Below are the most common responses that we would like to share with you.
The "Ideal Home Office" would have:
An office with a locking door, a large desk w/ locking drawers, dual monitors, comfortable chair with good back support, high speed internet (super-fast!), lots of natural lighting, printer/fax machine, heavy duty shredder, coding books and reference guides, phone w/ speaker and headset, snacks, small refrigerator, a cat or fish (not both or it would drive the cat nuts), no small children, no grandparents, a room with a window (no spacing out!) and plants, create a relaxing environment, a bulletin board w/ calendar, and soothing music! Now you are ready to code from home!
Source: 7 Steps of Becoming a Successful Remote Coder
Step 7: Minimize your disruptions (Honey, you can't call me right now, I'm WORKING!)
In a survey conducted by MedPartnersHIM HIM on 60 remote medical coders in the industry, three of the biggest disruptions mentioned in their survey that can be controlled were
1) family and friends calling,
2) friends knocking on the door, and
3) doing chores or taking care of the kids (43% combined).
The first step when you start working remotely is to inform your family and friends that you can't be interrupted (unless you're bleeding to death!). Also, you should say NO to neighbors asking if you can babysit the plumber or A/C guy because your neighbor can't be home. Coders need to put their foot down and set the expectation with everyone that, yes, even though they are home physically, they are mentally working on a very important patient's chart. We know, it easier to say than to follow. You need to keep telling yourself to stay focused and remind yourself why you are lucky enough to work from home.
Source: 7 Steps of Becoming a Successful Remote Coder
How to Succeed as a Remote Medical Coder — Remote Coding Jobs Advice

Are You a Remote Coder?
Are you working from home and living the dream? Or did you try it once and find it wasn't what it seemed? Let us know in the comment box below.
Related "How to Succeed as a Remote Medical Coder" Posts: