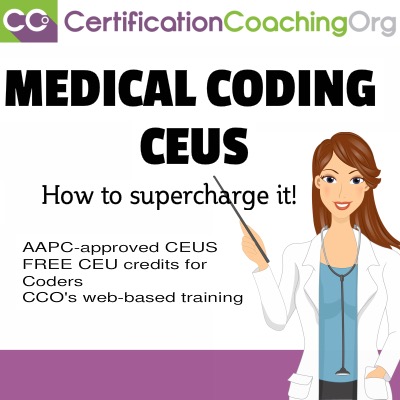 Medical Coding CEUs
In order to maintain your certification (regardless of which medical coding or billing certification(s) you choose), you've got participate and earn medical coding CEUs. The reason for this is simple —  the healthcare industry is constantly changing. Codes change. Rules change. Medicare policies change. Every year, diagnosis codes and new CPT codes are added while older codes are deleted. Medical coding CEUs keep you up-to-date on all the pertinent changes.
What is a CEU?
CEU which stands for Continuing Education Units are required for certified coders to show they are staying current on their coding information.
What minimum amount of CEUs do I need to maintain my certification?
The number of continuing education units (CEUs) you need varies based on the type of certification(s) you have. Each specialty certification requires units in that specialty in addition to the basic certification requirements. Source: http://www.dummies.com/how-to/content/continuing-education-for-medical-coding-and-billin.html
The following information from AAPC outlines how much CEUs a coder can get for each certification:
Number of Certifications:
Number of CEUs:
One Certification:
36 CEUs every two years

If CIRCC®, 16 must be related to interventional radiology or cardiovascular coding
If CPMA®, 16 must be related to auditing
If CPCO™, 16 must be related to compliance
If CPPM®, 16 must be related to practice management
If a specialty, 8 must be specialty specific

Two Certifications:
40 CEUs every two years*
Three Certifications:
44 CEUs every two years*
Four Certifications:
48 CEUs every two years*
Five or More Certifications:
52 CEUs every two years*
Note: Events must be specifically pre-approved for CIRCC®, CPMA®, CPCO™, CPPM®, and all specialty credentials, based on relevance and level of difficulty, in order to be eligible for CEUs.
Once CIRCC®, CPMA®, CPCO™, CPPM® and specialty CEUs have been met, the remaining credits due can be obtained from any pre-approved program. If CEUs have been pro-rated due to a corporate membership addition, this may exceed the cap of 80 CEUs every two years. Effective October 1, 2012, pre-approved Specialty CEUs can be applied toward one Specialty and one Core credential concurrently.
How Can I Earn Medical Coding CEUs?
You can earn AAPC approved CEUs by attending workshops, events, professional boot camps, webinars and by taking quizzes linked to professional articles in coding magazines or technical publications.
The credentialing organization determines the number of CEUs the various activities offer after evaluating the educational content of a program. The number of CEUs associated with an activity normally coincides with that activity's time commitment. One hour equals one CEU.
Exceptions are meetings and workshops. Often, organization meetings earn you ½ or 1 CEU, even though these activities last two or more hours. (Time is counted for the time spent in actual learning, not in coffee or lunch breaks and definitely not for meeting with vendors to grab your take-home goodies!)
Make sure your credentialing organization has approved the activity you want to use as a CEU. Approved articles, quizzes, meetings, webinars, and so on display the organization's approval seal, along with the number of CEUs you can earn.
Each time you earn a CEU, you receive a certificate that has an index number that you register with the AAPC. This number verifies that the CEU is authentic. Go to AAPC's online CEU tracker (available to members) and enter the index number into the tracker.
Be sure to hold on to the paper copies of your certificates, though. You'll need them in the event that you're randomly selected for a CEU audit. Source: http://www.dummies.com/how-to/content/continuing-education-for-medical-coding-and-billin.html
Free CEU Credits for Coders
Free AAPC-approved CEUs
Membership in the AAPC includes a subscription to the organization's magazine, The Coding Edge. Each month, the AAPC website includes an online quiz covering articles in that month's publication. Complete the quiz, and your CEU is automatically linked to your account. How's that for healthcare information management? Source: http://www.dummies.com/how-to/content/how-to-find-free-continuing-education-resources-fo.html
CCO's online courses and web-based training
CCO offers online courses and web-based training, organized into a series of modules where you can complete them at your own pace. These training exercises / modules are relevant to current coding and processing issues, and CCO updates them regularly, keeping you abreast of the latest developments and changes. Below are lists of our available medical coding CEUs.
Get FREE Medical Coding CEUs – Video
You need to enter these CEUs into your AAPC CEU tracker account yourself. If you are earning CEUs toward other organization certifications, you need to follow their protocol for submitting them.
Other list of available medical coding CEUs you can earn at CCO:
Self Study Web Based Training
CPT 2016 Updates — 2.00 CEUs. Can be used for Core A and all specialties except CIRCC with successful completion of post-test

ICD-10 Blitz Part 6— 2.00 CEUs. Can be used for Core A and all specialties except CIRCC with successful completion of post-test

Webinar (live web-based training)

Live CPT Medical Coding Review Blitz Video Course— 16.00 CEUs Core A

Live ICD-10-CM Blitz Course— 12.00 CEUs. Can be used for Core A and all specialties except CIRCC

Live ICD-10-PCS Blitz Course— 4.00 CEUs. Can be split between all specialties with the exception of CCPC, CEMC, CFPC, CIMC, CPEDC, CRHC, CIRCC. On-Demand product requires successful completion of post test