Boyd: What opportunities are out there for medical auditors today?
I understand that there's a certain type of person who kind of looks like, from what I've learned from Laureen and Alicia, that some people who like to be their own bosses, is a good thing for them, so tell us about the kind of opportunities that are out there for medical auditors once they start in the field.
Tamara: There are a lot of opportunities out there for auditors. The very first time I ever heard about auditing, I was coding for a group of hospitalists and the hospital had paid for an outside auditor to come in and she worked in Washington state, of course I live here in Louisiana. So I was curious as to what she did and how much she made, and she made an astronomical amount of money that I've had a heart attack over. I was like, "I need to do what you're doing. I want to make that much money so I can retire early in life." But you can go to work for a physician's practice like I've already mentioned. A lot of practices want someone who can audit, and their insurance carriers are looking for auditors, lawyers look for auditors that handle the hospitals or that have medical client. They're looking for auditors also. The RAC contractors are also looking for auditors. So there's a lot of potential out there.
Medical Auditing Career | What are the Opportunities for Medical Auditors? – Video
Alicia: That reminded me, Tammy, when I was in Texas there was a big company that outsourced RAC audits. They want the contract to do the RAC audits for that region. They were snapping coders right and left and RNs to do those, so it was a well done job. I think you mentioned one time that that auditor that came to [? 0:13:12] with you guys that maybe she worked for a lawyer that's why she got paid a lot.
Tamara: She did. Yeah. She made $4500 a week. Can you imagine doing a job that pays that much money? She probably didn't do it every week, but gee!
Alicia: Right. Now, that's another thing to mention about auditing guys, when you start out you aren't going to make that kind of money in the beginning…
Tamara: No.
Alicia: But not only is it quality, but for that type of work, it's how much time you have under your belt as well.
Tamara: It is. And it depends on where, so don't think that you're… I didn't make $4500.
Alicia: No [laughs]
Tamara: I'm still waiting for that day.
Alicia: But auditors do get paid well.
Tamara: They do, they do. That's your main job, yes they certainly do.
Alicia: Yes. It is regional so keep that in mind.
Find out More about Medical Auditing Career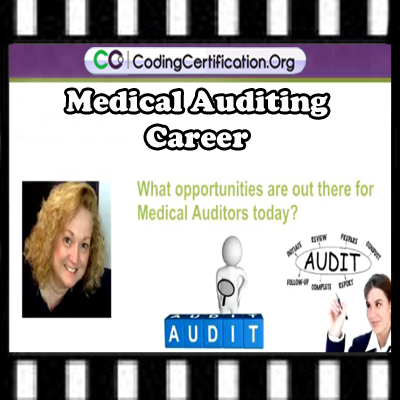 Medical Coding Job Search