I Have Passed the CPC Exam – Now What?
Someone had asked at the last Webinar, "I have passed the CPC exam now what? I can't seem to find anyone who will hire me."
Well discouraging but here's a little encouragement for your medical coding job search. There are several things which you can do.
The first thing is to make sure that you are networking. There are several ways to network, this is a way to network being a part of these Webinars, also going to the CCO website, and staying on top of the video Laureen makes youtube snippets, seeing the comment. connecting with people that you might recognize Also going to your local chapter meeting. I keep saying how important that is. Not because I'm the president but it is really important because that's where your future co-workers are going every month and that's where your future employer is going to go. So if they don't have a job where they are at they may know someone who is hiring. So make sure you attend those every month.
Sometimes you just have to get your foot in the door. We had one student she's working in food services, she's working at the hospital and they hire from within before they hire outside because they already know you are going to come to work because you get along with your co-workers, etc etc. Sometimes you need to take a job as a receptionist or something else and just get your foot in the door. Start looking online and asking other coders, tell them you are working on your resume, would you allow me to see your resume and make sure your resume has the information that they are looking for. You can find coder resumes online. Make sure the verbiage in the resume is correct.
To Land that First Medical Coding Job Consider Volunteering First
Volunteer. This isn't something that a lot of people think about but we just started doing that down here. One of the places West Texas Medical, really liked some of the students we had, they said they knew we had coders and would they like to come and volunteer so they set up a time, they work like an employee and they don't get paid but they actually get to work in the coding department. Sign up for job postings, I signed up for several just so that I could pass them on to my students to let them see that …there are several out there that you can get emails from. You put in your zip code and put in medical coding and they will pop in all kinds of jobs in your areas in a radius that you choose.
Don't forget to think outside the box. This goes back to getting your foot in the door. Just because you are coders doesn't mean that's all you will be doing. Maybe you will want to do some other aspect of coding to get your foot in the door. Don't think that you have to work in a Doctor's office. There are so many other things you can do. There's tumor registry, you can specialize you can work with cardiologist, pediatrician or orthopedic, insurance companies don't forget them. There are companies that have auditing, if you like that. Don't think that just because you are shy that you want to be a coder and you want to stay in your cubicle. Although that's how a lot of coders work, but not all of them. So you might want get into administration or some other aspect. Push your comfort zone – talk to people by pushing your comfort zone and let them know you are looking for a job and you are willing to volunteer and you want help, if you don't tell them no one's going to help you.
Attend your local chapter meetings, know what you are worth. You have spent a lot of money getting yourself educated as a coder so make sure that you are confident when you walk in to talk to someone, let them know that you have taken additional training and that you are constantly staying in touch with the changes and you are getting your AAPC coding magazine and that you network and then they will look at that as a positive thing in the interview, stay positive, don't let yourself get down. Go into the network sites like on the AAPC. There are some new things on the CCO website, you can get in there and ask questions say I'm getting discouraged, what can I do. That new site that Laureen has other people can post on there and answer for you and tell what they did.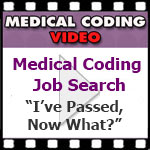 Remember here at the CodingCertification.Org website we've got this search box here, we have a lot of articles because we are very sensitive to how hard it is to get that first job, when you are newly certified, you are all excited, you got the certification and you are like…now what? It's a big thing I see on the AAPC discussion boards, on the Facebook groups. So we've got several articles. If you come here and type in job search and this is good for other kinds of research that you want to do to see if we've written an article or done some research for you. This search box does it in relevant order, it's looking for every post that has the word "job" or "search" in it. and if it has job and search in it, it's going to be first. Here's a really good one, medical coding job search tips, this one studying for the CPC Certification exam had a question in it, job prospects for an AAPC certified coder versus and AHIMA certified coder, ….. medical coding from home,medical coding job search, etc. you get the point.
Use the resources that we put out there and certainly if you have any questions that it doesn't answer, tap into us and if you are a Blitz student or a physician based coding student, part of your package is you get an hour one on one session with me. You can use that to review your resume or anything I can do to help you I have reviewed quite a few resumes and helped people with that, I'm not saying I'm an expert but I have been an employer, I have read a lot of resumes and I can give you heads up on certain verbs and adjectives tips to use and stuff like that. So use that hour, its part of your package.
Related Medical Coding Job Content: