Alicia: We like to throw in prep courses for ICD-10. This time since Laureen was away, I kind of shuffled these information slides in between some of our content slides, and wanted to bring up the ICD-10 Mini Course, the ICD-10 Full Course which has a payment plan. But the hours that are involved, you got 40 hours equivalent in the Mini and 80 hours for the Full. Some people want to know, what's the difference in the two? When you take an 80- hour course, of course you're going to get more CEUs for that, but it also will take a year off of your CPC-A when you do that with the CPC course. I think it has some determining factors when you go to do your equivalent testing for ICD-10.
Medical Billing and Coding Courses – Preparation Courses For ICD 10 – Video
Now, everybody is all abuzz about our ICD-10 practice exam. We have a free practice exam in ICD-10 and we also have an additional one that if you want is $29.95, which is incredibly cheap. If you're going to test for the proficiency, take a medical coding course, and just do as many practice exams as you can get your hands on. Again, you can find that on our "Products" page, like we talked about before.
Learn More about Medical Billing and Coding Courses – Preparation Courses For ICD 10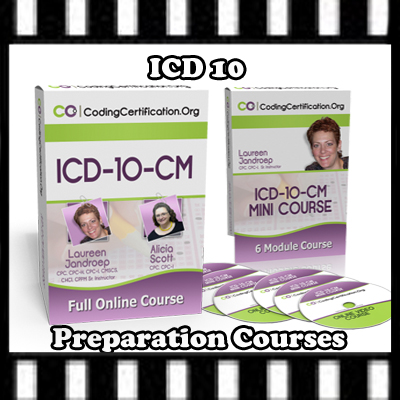 New ICD 10 CM PCS Coding Online Course