A medical coding career is so broad that often people are not aware of the options a career in medical coding provides. Knowing what is available helps you market yourself as a coder. You can fine tune your education to reach a specific goal in your career path.
Medical Coding Career Options — Two Major Types
The two major types of medical coding are the physician-based coder sometimes referred to as an outpatient coder and the inpatient coder. When you ask someone what sort of coding they do you most likely hear one of these mentioned. The physician based coder will want to focus on CPT® codes as this drives reimbursement for the physician. Evaluation and management codes also known as E/M codes will be codes that the physician based coder deals with frequently. It does not take long for an outpatient coder to become skilled in E/M coding as they get real world experience. On the other hand inpatient coders have slightly different rules in coding. Diagnosis coding or ICD-9-CM codes play a larger role in the life of an inpatient coder. There is more money involved when coding for inpatient stays therefore rejections can hold up the bottom line for a hospital. This is why you will see employment adds that require two or more years of experience desired for an inpatient coding position. The first step in the career of a medical coder is often in the outpatient setting.
Outpatient coding can be extremely diverse. It doesn't matter if you work for a sole provider or a multi-provider association you can specialize as an outpatient coder. In the past the top three specialties on the pay scale were: Oncology, OBGYN and Cardiology. Every year the AAPC does a survey which can be located in the recourses tab under research on their website.
Medical coders are not limited to the outpatient and inpatient setting. Remote coding has become very popular especially with the upgrades into electronic health records (EHR). Know that these positions are often limited to those that have five years of experience in coding and they will also want to confirm you have secure internet with experience in applications like Excel and other Microsoft office programs. These positions allow the coder to work the hours they want but it is not a job that is suitable to interruptions by children or people who think because you are working from home you  are available during your working hours.
Another option for medical coders is to work over seas. If you are contracted with a military base you can live on base in other countries. The military will provide housing and it is an option to see countries you might not have been able to travel to otherwise. This does require a military background check and may have other restrictions.
There is an increasing need for auditors in medical coding. Again this requires a higher then entry level experience. Some hospitals have started employing nurses who are certified as coders to pre-audit a patients chart before the patient has even left the facility to confirm documentation is adequate.
Education is a need for the coding community. If you feel that you like being an educator you can specialize in this field. As medical coding changes and evolves it is important to have those out there who are willing to keep us informed.
A medical coding career is not a job that lends to boredom. If you have not found your niche or are looking into a future career in coding know that you have options as you set your goals. Recourses are growing for the coder as choices expand.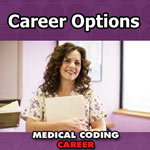 Medical Coding Career Related Content: