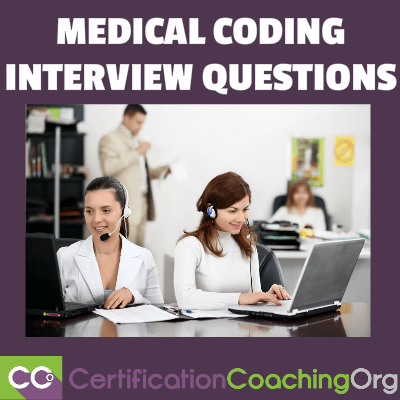 We know the interview is your opportunity to "sell yourself" and each element of the interview process is important.  However, as you probably guessed, significant weight is placed on your responses to interview questions and there are some questions that are more frequently asked than others. And when applying for a medical coding position, you may be asked detailed interview questions to more accurately ascertain your skill set.
Since most companies use interviews as a tool for hiring, the types of questions asked are often similar from company to company. Although they may be worded differently, they generally address the same issues.
For example; although phrased differently, the two questions below are focused on the same topic– what is your interest level in the company? Questions like:
Question 1: What do you know about our company?
Question 2: Why do you want to work here?
There are a number of questions that, in one form or another, are frequently asked during an interview. When grouped together, these questions can help you recognize what an interviewer is looking for. Most questions fall into one of the following groups:
• Personality Traits
• Communications Skills
• Interest Level in the Company
• Ability to Handle Authority and Get Along with Others
• Technical Ability and Problem-Solving
• Company Policy
It might all sound scary. Don't get nervous. Just like any material you've studied in school, interview questions can also be studied and appropriate responses can be learned.
Let's look at some common medical coding interview questions typically asked for medical coding jobs to help you in preparing for your job interview. By the way, do you know what the most frequently asked interview question is?
Medical Coding Interview Questions / Job Guide — VIDEO
If you guessed "Tell me a little about yourself", you're right!  This question is a great example of a common question that covers two categories, Personality Traits and Communication Skills. Learning how to respond to this question will help you in answering similar questions. Let's start with five common questions from these categories.
1.) Tell me about yourself.
Purpose is to find out about your qualifications and personality traits. Do not to tell your life story. Start with traits and accomplishments that are relevant and give brief responses focusing on your best qualifications for the job. Use your school experiences, as well as, any other recent positive education or work experiences.
2.) Why should I hire you instead of somebody else?
Purpose is to give the interviewer a reason to hire you when compared to the other candidates and how confident you are about yourself and your skills. Don't be afraid to ask for the job. Source: http://www.americaninstitute.com/interviews/frequently-asked-interview-questions/
3.) What is your major strength?
Purpose is to give the interviewer insight into your personality and how your personality will fit the position. Try to match your strength to the position.
4.) What is your one major weakness?
Purpose of this question is for the interviewer is trying to find out your weak spot or any negative personality trait you might have. Turn your weakness into a positive characteristic.
5.) What are your qualifications?
Purpose is to identify how your qualifications as well as personality traits will match the position. Match your response to the needs of the position. If you were applying for a position in a blood bank or physician's office you would stress your clinical training, good communication skills, compassion, honesty, dedication, efficiency, and energy. Source: http://www.americaninstitute.com/interviews/frequently-asked-interview-questions/
Conclusion:
When it comes to finding job opportunities, you need to network, network and network. Talk to as many people as possible to find opportunities, and do plenty of your own independent networking.
As you look for job postings, be aware of the many settings (physician offices, hospitals, physical therapy offices, home health agencies, medical equipment agencies, hospice, billing companies, insurance companies, etc.) and positions (coder, billing coordinator, compliance manager, audit specialist, etc.) that are available to you. Source: https://www.aapc.com/medical-coding-jobs/job-seekers/tips.aspx
For more medical billing and medical coding interview questions tips for freshers, check out some of the resources below: