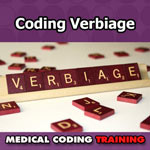 As many of you know the medical field has it's own medical coding verbiage that can tangle up the process of coding. For example in HCC coding if a physician states that a person has a history of hypertension and diabetes in the HPI you can't code the diagnosis unless it is clear in the encounter that the two are being actively treated and addressed in that encounter. An HCC coder can not code off a list or from the HPI alone so verbiage plays a big part in what you can and can not code.
Medical Coding Verbiage
It is important to know how verbiage can change what a coder is able to code. When dealing with hypertension for example if your patient has chronic kidney disease you can link the hypertension and the chronic kidney disease with out support but for hypertension and coronary artery disease there must be support. The same is used for hypertension and heart disease. If your encounter states that your patient has congestive heart failure due to hypertension, continue Diovan that is different from a statement of patient presents with congestive heart failure and hypertension continue Diovan. What appears at a glance the same is actually coded quite differently.
When a coder is just starting out mistakes in coding can be made over a single word. Dealing with one provider or a few the coder gets familiar with her physicians verbiage. It is important to stay sharp.  Guidelines and coding verbiage changes every year. The providers depend on their coders to keep them informed of the changes. To obtain maximum reimbursement for the work being done knowing the proper coding verbiage is essential. Take time out of your day to stay connected in your field. The best way to do this is to join coding forums and keep on top of your CEUs. Your providers are depending on you.
Related Medical Coding Verbiage Training: