Risk adjustment coding or HCC coding (Hierarchical Condition Categories) were designed to assign scores to Medicare Advantage members' based on their chronic conditions. The HCC coder's job involves identifying and capturing the chronic conditions which carry an HCC and are actively being treated by a physician.There are 79 HCC categories of chronic illnesses with thousands of diagnosis codes.  This entails the ability to read multiple styles of documentation as well as draw a line between a condition and the current treatment in a face to face visit.
How Can You Benefit from Risk Adjusment Coding Training?
With specialization in HCC coding comes a higher salary. Normal medical coders can expect to earn $32,000 per year. HCC Coders, however, can expect to earn a higher salary of $53,000 per year according to SimplyHired.com.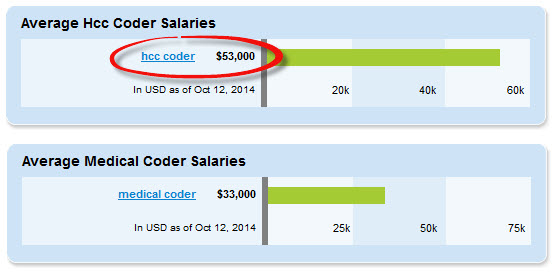 Who's this Risk Adjustment Coding Online Training for:
This risk adjustment coding training will:
Discuss the Guiding Principles of Risk Adjustment
Discuss Risk Adjustment Terminology
Review HCC Coding Hierarchy Methodology and Guidelines
Evaluate the HCC Disease Co-morbidity and Interactions:
Bulletproof Documentation with Linking Statements
Understanding The Risk Adjustment Submission
Prospective, Retrospective Reviews
Risk Adjustment Factor Scores (RAF)
Benefits of the Annual Wellness Visit (AWV)
Suspect Generation and Predictive Modeling
Medical Loss Ratio Reports (MLR)
Healthcare Effectiveness Data and Information Set (HEDIS)
Five-Star Quality Rating System (STAR)
Model Output Report (MOR file)
Risk Adjustment Data Validation (RADV)
Identify the ICD-10-CM Impact on HCC Coding and Risk Adjustment
Review HCC Job Search Tips
This risk adjustment coding online training includes:
Training and handouts for 17 Jam-Packed Modules to walk you through risk adjustment coding, including HCC, step-by-step. The HCC Coding Course includes:
The Guiding Principles of Risk Adjustment
Risk Adjustment Terminology
HCC Coding Hierarchy Methodology and Guidelines
HCC Disease Co-morbidity and Interactions
Bulletproof Documentation with Linking Statements
Understanding The Risk Adjustment Submission
Prospective, Retrospective Reviews
Risk Adjustment Factor Scores (RAF)
Benefits of the Annual Wellness Visit (AWV)
Suspect Generation and Predictive Modeling
Medical Loss Ratio Reports (MLR)
Healthcare Effectiveness Data and Information Set (HEDIS)
Five-Star Quality Rating System (STAR)
Model Output Report (MOR file)
Risk Adjustment Data Validation (RADV)
ICD-10-CM Impact on HCC Coding and Risk Adjustment
HCC Job Search Tips
Each HCC Coding Course Module Contains:
Textbook Chapters by Holly Cassano, CPC
What's Included with the HCC Coding Course:
What You Need:
ICD manual your choice of ICD-9-CM or ICD-10-CM
Related Content: