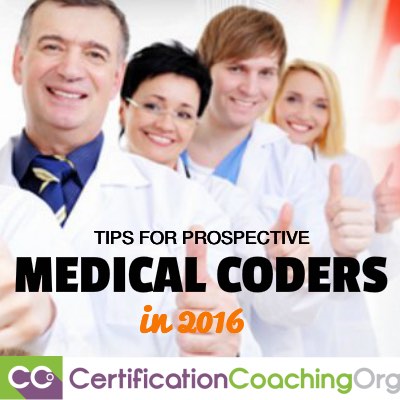 Tips for Prospective Medical Coders in 2016
Are you looking for a career with lots of opportunities? Consider a career in medical coding and billing. Around 51% of healthcare employers report having open medical coding positions and it would be hard to find a career with better options than that.
The medical coding and billing field offers a number of benefits, including:
Nationwide shortage – There's a great need for well-trained medical coders nationwide—in fact, there are estimated to be 30% more positions than professionals! This shortage will only increase with all of the industry changes.
Healthcare security – The healthcare industry is one of the fastest growing in the country, and medical coding and billing gives you a chance to enjoy that security from an office setting with many opportunities for promotions and advancement. Options for working remotely from home are increasing in this field as well.
Competitive salaries and benefits – Professional medical coders and billers enjoy competitive salaries as well as the potential for traditional employment benefits like health insurance and a 401(k) program.
All of these mean good things to you and your job hunt. In fact, coding job opportunities are so good that the AAPC, a leading industry association reports that coder's unemployment rate is only 1.7% compare that to a 7.4% national average. Medical coders work in hospitals, nursing facilities, physician offices, insurance companies, and other healthcare settings and there are even opportunities to work from home. Thus, this is a great career option if you're interested in healthcare but don't want to work on the clinical side of things.
5 Key Tips for Prospective Medical Coders in 2016
Experienced medical coder Kristi Pollard offered a few words of wisdom about a career in medical coding in Government Health IT.
1. Find what area suits your skills best; not everyone is a great fit for medical coding.
2. New coders start from the bottom up; this means even experienced professionals switching careers should begin at the entry level.
3. Research each type of accreditation to learn about the demand before undergoing training.
4. Coders often have to go where the work is, often commuting to an office.
5. Be excited about coding as a career, but success is not automatic, she says.
Source: http://www.beckersasc.com/asc-coding-billing-and-collections/5-key-thoughts-for-prospective-medical-coders-in-2016.html
Is Medical Billing and Coding a Good Career Choice – Video
Salary Expectations for Medical Coding and Billing
According to the 2012 annual salary survey conducted by the American Academy of Professional Coders (AAPC), salaries earned by professional medical billers and certified medical coders vary widely by work environment, amount of responsibility they take on, and geographic area. Overall, the earnings potential of medical coders and medical billers is above minimum wage for their locality. Source: http://www.payscale.com/research/US/Job=Medical_Biller/Hourly_Rate
A recent salary survey reported that coders earned over $45,000 a year which can quickly jump to nearly $50,000 a year with more experience. There are also lots of opportunities for advancement if that's what you're looking for such as management positions or specialty credentials awarded by AAPC or AHIMA – the two leading industry associations.
According to the Bureau of Labor Statistics (BLS), prospective medical billers and coders will find that their job outlook  is very promising as the medical record and health information jobs are due to increase by 22% in the years of 2012-2022, much higher than the national average of 11% for other career choices.
Is CCO the Online Training Program for Me?
The quickest way to start a coding career is through an industry-approved certificate program that will prepare you to earn an industry credential such as AAPC's Certified Professional Coder or AHIMA's Certified Coding Associate.
The thousands of Certification Coaching Organization (CCO) students can't be wrong. Choose CCO and graduate with the skills you need to start working right away. CCO offers:
One-on-One Coach/Student approach — PLUS wealth of resources and education at your finger tips. Our One-on-One Coach/Student approach reinforces this great support system.
Expert-designed training to help you stand out – Our coding certification program was built by experts with years of experience to ensure you gain the skills you need to stand out to employers and excel in this field.
Affordable, AAPC-approved education – CCO's Professional Medical Coding and Billing Courses will enable you to prepare for credentials which are highly advantageous when job searching.
Choose Certification Coaching for the quality education you need to secure a successful medical coding and billing career as a medical coding and billing professional.
Related Tips for Prospective Medical Coders in 2016 Posts: