We have all been informed of ICD-10's official implementation date and may think October 1, 2014 is far enough away not to worry about it. But coders think again! October 1, 2014 will sneak upon us before we even realize it.
That being said, coders should begin researching ICD-10 now to help them understand what strategies must be taken within their company or physician's office to be fully prepared. Everyone, in some capacity, will be affected. ICD-10 will be one of the biggest changes to impact the healthcare industry. It not only will affect a health care provider's documentation and medical coding and billing procedures; it also will force changes on encounter forms, lab requisitions, practice management and electronic medical record software, insurance company databases and clearinghouses.
To begin a formal study program and memorize code sets at this point would be too soon. However, reviewing information made available through websites such as Medicare and Medicaid, Blue Cross Blue Shield, and other major carriers is a good starting point. Organizations such as https://www.cco.us/ and www.aapc.com will also provide educational tools as the implementation date approaches. Search for any AAPC Chapter meetings in your area that offer ICD-10 informational lectures as well.
ICD 10 Training Roadmap
For certified coders, there will be a proficiency assessment mandated by the American Academy of Professional Coders. (AAPC). All credentialed holders with the exception of CPPMs, CPCOs, and CIRCCs have two years to take and pass the ICD-10 proficiency test. Testing will begin October 1, 2013, which is one year before the implementation date of October 1, 2014, and end September 30, 2015, one year after implementation. There will be seventy-five (75) questions and a small fee of sixty dollars ($60.00). This will be an open book, online exam and unproctored. Coders may use any resources available to them to take this exam.
As with any AAPC exam, coders will have two attempts at passing the exam over a two year window of time for the onetime fee of sixty dollars ($60.00). This is exam is strictly for ICD-10- CM, not ICD-10-PCS. There are no ceus being given for this test. Be assured, as certified coders you are already properly trained on how to look up a code and follow the guidelines. If anything, we are often frustrated by the lack of specificity in the diagnosis codes provided in our current ICD-9-CM manuals. ICD-10-CM is a welcome relief for those who want to be as specific as possible in their coding.
The rules are the same:
• Know your ICD-10-CM Guidelines, which are more specific and highlight and tab key areas as you already do
• Reference the Alpha Index
• After the Alpha Index, go to the Tabular Index and follow the rules in the notes indicated, just like in ICD-9-CM.
Maneuvering around the ICD-10-CM manual is very similar to the ICD-9-CM. The challenge will be helping your providers learn how to be more specific in their documentation and making sure all your vendors and key associates are tied in properly so that billing can get out without a problem and reimbursements are not interrupted. If possible, take the time to review documentation and make a chart showing the ICD-9-CM codes used and then indicate what the ICD-10-CM codes should be. This can be a great teaching tool for your providers and excellent practice for the coder.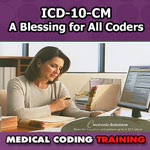 Related ICD 10 Training: