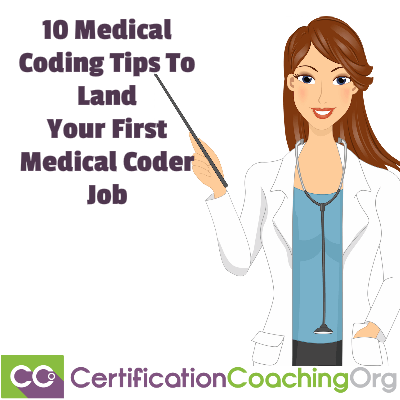 I often get asked for help to break into the medical coding field. Here are 10 medical coding tips to help you land your first job as a medical coder.
Get educated. There are many online medical coding courses to choose from; do your research and make sure you connect with a group that will be able to meet your budget; time frame and specific medical coding training needs.
Internships. Most people cringe at this idea, but they are a great way to break into the field. Perhaps there is a medical office nearby that could use some assistance, say one day per week. Volunteer. In turn, you can request some time with their medical coder to see what happen on a day-to-day basis. It may turn into a part-time or full-time gig.
Entry level. When breaking into a new field, you typically have to start at the bottom. Don't be dismayed. Entry-level coders can quickly rise to the top with the right skill set.
Excel. Take pride in what you do. Ask questions. Get to know your supervisor. Volunteer to take on extra work if needed. It's these things that will help you to quickly rise through the ranks.
Relocate. Go where the jobs are. If you have the ability to move, research areas where medical coders are most needed.
Certification. It's not only important to get initial medical coding training and education, but it's key to keep up certifications once you get them. They will help you to maintain your competitive edge.
Network. Join medical coding forums; sign up for medical coding e-newsletters; get involved with medical coding associations. There many groups to be found on social media as well such as on LinkedIn and Facebook. Do a simple search for medical coding and see what comes up.  Many of these sites will also post jobs in the medical coding profession.
Read. In addition to online resources, read books. Of course, you will need the essential such as the most current versions of the CPT, ICD-9 and HCPCS books, but also check out specific books in your specific medical coding specialty (i.e., anesthesia, on-gyn, etc.) There are also many books on compliance that may be useful in medical coding career. The more you know; the more valuable you will be.
Write. Get your name out there. There are many article sites where people can write informative articles and submit them online for free. For example, Ezine articles is one such site. You can check them out at: www.ezinearticles.com. Once you begin to develop an audience, you will be more sought after in the medical coding industry.
Be diligent. Don't give up. This is a growing field and a great time to be seeking a career in medical coding. If you follow these steps, you will be well on your way to a successful medical coding career.
Related Medical Billing and Coding Articles: