There are many facets to providing quality service in the healthcare industry. It begins with the quality of care provided to a patient in order to avoid risks of malpractice and other liabilities and focuses on efficiency and effectiveness in the work place. Machinery and office procedures that are used in the office not only affect patient care but also protect staff members and physicians. Quality care guarantees office stability.
How do we measure quality care in the medical practice? There are many tools available to benchmark an office's workflow and patient care. Physician Practice Managers (PPMs) must be able to involve employees in providing data and feedback through various requirements and measurements and have a system in place to report such quality measures to ensure success in the practice.
Medical Practice Management for Quality Health Care
Quality Control is one method of measuring technical performance against a defined set of operational standards. A technical function assesses activities such as calibrations and testing of equipment functionality with a goal of acquiring precision in all functions.
Quality Assurance deals with policy setting and managing an office with functional controls that allows for smooth workflow and usability of products, such as electronic medical records, practice management software, e-prescribing software, and how employees interact with the products to provide positive results. It is through training, planning and data review that the practice manager can assess all aspects of the practice.
Continuous Quality Improvement is an ongoing job that assesses and reassesses processes to achieve the highest quality of service. The reporting system focuses on individual employees and the role they play in the office. It could be the front desk receptionist or the practice's medical coder, but efficiency and accuracy is vital, so continuous monitoring of each work process can never be a onetime effort. Quick fixes do not resolve any problems.
Let's look at a few examples of a facility implementing quality controls:
• Diagnostic imaging machines and X-Ray equipment requiring apparatus calibration
• Monitoring who accesses electronic medical records as well as the specific information looked at
• Testing of fire extinguishers
• Making certain temperature controls for the refrigerators are accurate to store vaccinations
Examples of a medical practice using quality assurance measures are:
• Patient satisfaction surveys
• Verifying insurance eligibility on patients
• Auditing front desk procedures to make sure patient demographics are accurate
• Ensuring all coding and billing is up to date and accurate
• Providing training on the use of medical supplies such as casting supplies
By putting into operation quality control and quality assurance, patient outcomes will improve substantially, leaving less of a chance of malpractice risk.
Quality improvement is a process that has emerged with technology. Ample time must be given to test new products and changes. For example, the implementation of ICD-10-CM is something that is going to affect the healthcare industry and every medical practice. Training, modifications, testing, etc. are all part of the new manner in which we will be coding based on documentation. Quality improvement (working towards an easy transition) for ICD-10-CM can be compared to project management with major impacts on revenue as well as legalities associated with the patient record.
Managing quality improvement is not just for the practice manager. It involves everyone in the practice with accountability for all roles each employee plays. This is a multi-level process incorporating communication, timelines, goals and policies.
There are six goals of quality care:
• Safety: Avoiding harm to patients when the intent is to help them.
• Effectiveness: Providing services based on scientific knowledge.
• Patient-centered: Providing care to accommodate a patient's individual needs and preferences.
• Timeliness: Reducing wait times for patients which can cause damage if delays are frequent and a patient is in urgent need of care.
• Efficiency: Avoiding waste of supplies, equipment, ideas and energy.
• Equitability: Providing equal care to patients despite ethnic background or socioeconomic status.
Benchmarking helps measure quality standards, and organizations such as the MGMA, are a good source to use because they perform yearly surveys of medical groups around the country. Medicare has also established a quality improvement organization (QIO) in many states to assist medical practices in their quality improvement.
Through the American Recovery and Reinvestment Act (ARRA) the federal government has become a major driver of improvements in health care through expansion of health information technology. The government has incorporated "Meaningful Use" which is the use of electronic medical records and assists in the quality of healthcare and support of clinical research.
More Medical Practice Management Related Posts: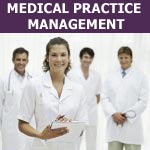 CodingCertification.Org
Average rating:
0 reviews